95 GSM PPE Kit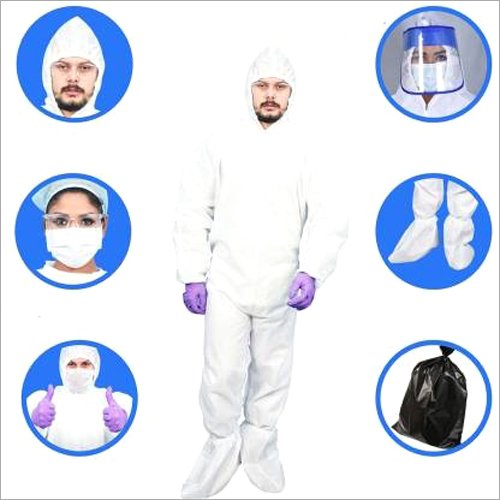 95 GSM PPE Kit
Price And Quantity
Product Specifications
Product Description
A 95 GSM (Grams per Square Meter) PPE Kit alludes to an Individual Defensive Gear kit that incorporates pieces of clothing and frill produced using materials with a load of 95 grams for each square meter. The GSM estimation demonstrates the thickness or thickness of the material utilized in the PPE kit. PPE kits are intended to give assurance to medical services laborers and people from different risks, including contamination and impurities.
FAQs of 95 GSM PPE Kit:
Q: What is a 95 GSM PPE Kit?
A: A 95 GSM PPE Kit is an assortment of defensive pieces of clothing and extras produced using materials that have a load of 95 grams for every square meter. These kits are utilized to give an obstruction between the wearer and potential dangers like irresistible specialists and foreign substances.
Q: Which parts are commonly remembered for a 95 GSM PPE Kit?
A: A 95 GSM PPE Kit might incorporate a coverall or outfit produced using material with a load of 95 GSM, gloves, veils (careful veils or N95 respirators), face safeguards or goggles, and other important defensive stuff.
Q: What does the GSM estimation demonstrate?
A: GSM represents Grams per Square Meter. It estimates the heaviness of a texture for each unit region. In PPE kits, a higher GSM by and large demonstrates a thicker and more sturdy material that can give better security. In any case, different variables like material sythesis and configuration additionally add to the viability of the PPE.
Q: When ought to a 95 GSM PPE Kit be utilized?
A: A 95 GSM PPE Kit ought to be utilized in circumstances where there is a gamble of openness to irresistible specialists, foreign substances, or unsafe materials. Medical services laborers, people on call, and people working in conditions where close contact with potential dangers is possible might utilize such kits.
Q: How would I appropriately utilize a 95 GSM PPE Kit?
A: Legitimate utilization of a PPE kit includes adhering to the producer's guidelines for wearing (putting on) and doffing (eliminating) every part. This limits the gamble of pollution during both application and evacuation.
Q: Can a 95 GSM PPE Kit be reused?
A: The reusability of a PPE kit relies upon the plan, material quality, and the particular rules given by medical care specialists. A few parts may be reusable after legitimate sterilization, while others may be expected for single-utilize as it were.
Trade Information
Cash in Advance (CID)

10 Days