75gm Ketoconazole Soap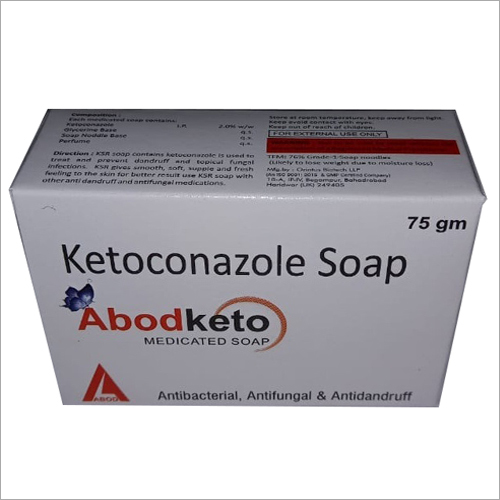 75gm Ketoconazole Soap
Price And Quantity
Pack/Packs

19.00 - 25.00 INR
Product Description
We are offering a wide range of 75gm Ketoconazole Soap. It is used to treat skin infections in ringworm and dandruff. This soap is easy to spread and apply. It reduces the cause of fungal infection and does not darken your skin. 75gm Ketoconazole Soap is prescribed by your doctor to utilized in a proper and exact duration. It does not give any skin irritation or infections. It is an anti-fungal soap which does not give any harm results.
FAQs of 75gm Ketoconazole Soap:
Q: What is 75gm ketoconazole soap?
A: 75gm ketoconazole soap is a soap-based item that contains ketoconazole, an antifungal medicine. It is utilized to treat different parasitic skin diseases and conditions, like competitor's foot, ringworm, and specific kinds of yeast contaminations.
Q: How does 75gm ketoconazole soap work?
A: Ketoconazole is an antifungal specialist that works by repressing the development of growths by upsetting their cell films. At the point when utilized in soap structure, it tends to be applied topically to the skin during washing, permitting it to come into contact with impacted regions and assist with treating contagious contaminations.
Q: Can 75gm ketoconazole soap be utilized by anybody?
A: Its essential to counsel a medical services proficient prior to utilizing any medicine, including soap-based therapies. This is particularly significant in the event that you have sensitivities, basic ailments, or are taking different meds.
Q: Can 75gm ketoconazole soap treat contagious diseases on the scalp?
Some time ketoconazole is generally used to treat parasitic diseases on the skin, there are explicit ketoconazole shampoos accessible for treating contagious contaminations on the scalp, like dandruff and seborrheic dermatitis.
Q: Is 75gm ketoconazole soap available without a prescription?
A: In many spots, ketoconazole soap might be accessible both over the counter and by remedy. Nonetheless, accessibility can differ contingent upon nearby guidelines and medical care rehearses.